In 2007, a pair of talented scientist-programmers called Mekentosj released Papers, a Mac OS X application that did for scientific literature what iTunes did for music. They tracked the desktop version with an iOS app that works as a stand-alone program or in conjunction with your Mac. Combining Papers with an iPad is pretty good for catching up on reading. Yet that was then and is now, as they say, and a new and rebuilt Papers 2 is here to support your research management needs.
Yes, new and rebuilt. The guts of Papers 2 have been redone from the ground up, and as we'll see in a moment, this resulted in some boot issues. Despite internal changes, Papers 2 still has the same excellent Mac user experience that has earned the company both Ars Technica and (multiple) Apple Design Awards.
Adding papers works the same as before. If you already have a document, you can drag and drop your PDFs onto the icon or app. You can also import them from the search function, which functions as a front-end interface to a range of databases and repositories including PubMed, Google Scholar, arXiv, etc. You can also now import directly from a scanner, which is a neat touch. If you're already a Papers user, you can transfer your current library, and two-way sync with iOS devices will also allow you to copy data from your phone or iPad. For new users, Papers 2 will set you back $ 79, with a 50% discount for existing users, as well as price reductions for undergraduates. Site licenses are also an option.
Unlike 2007, Papers isn't the only game in town for 2011. Its closest competitor is probably the Mendeley cross-platform, which we've looked at in the past – and it's still the best option for those of you. who don't. I didn't use OS X. Mendeley also had some features Papers didn't; it supports a much wider range of documents than just scientific papers and has social networking features that allow you to find and share papers. Fortunately, Mekentosj doesn't suffer from the syndrome of the uninvented here, and Papers 2 has embraced some of it.
In addition to journal or newspaper articles, there is now support for patents, bills, laws, reports, and even media files. Back in the days when I reviewed the first version of Papers, I wouldn't have appreciated how useful this is. Since entering the realm of science policy, however, the expansion of categories has proven invaluable and gives Papers 2 an appeal to researchers beyond the life sciences.
Another feature that seems inspired by Mendeley is Livfe (pronounced "life"), which brings social networking functionality to the app. I can't really comment on how it works as it has been closed to most Papers 2 users since the app launched a few months ago.
Probably the coolest new feature is the Magic Scrolls. You can throw away your copy of Endnote, as Papers 2 now integrates with most Mac OS X word processors (especially Word and Pages) so you can find references, cite them in your document, and format. bibliographies. Manuscripts run in your menu bar and are activated by a keyboard shortcut that opens a small search window that floats over your Word or Pages document. The articles will also keep track of the different manuscripts you have or are working on, which is a neat touch. It fits well into your workflow and on its own is probably worth the price of the upgrade. I am a giant fan.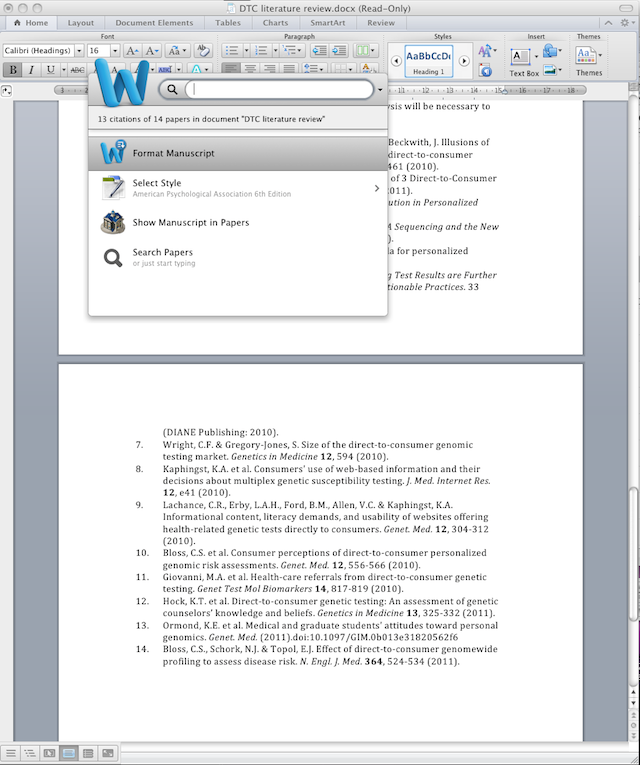 Unfortunately, it's not all kittens and the sun. Due to the completely rewritten back end, many features of Papers 1 have yet to make the jump. For one thing, there is no way to merge authors or posts yet. This is really quite boring, as JM Gitlin is considered a different author than Jonathan M. Gitlin. Likewise, differences in journal abbreviations result in multiple entries. This function will be added, but it cannot come too soon.
Another really cool feature of Papers 1 was the ability to see the 50 most recent posts for each journal, which was a great alternative to subscribing to the journal's mailing list. This is also missing currently, although it should reappear sooner or later as well. The ability to save custom searches is also currently missing, but bringing it back (along with better DOI search) remains high on the current list of things, according to Alex Griekspoor, one of the top two behind Mekentosj.
Support for users with multiple computers is still not where I would like it to be. Mendeley uses a central server to store your database, which means you can keep your home and work computers perfectly synchronized. My current workaround is to use my iPad to transfer referrals from work to home, which works pretty well. In the past, users would put their Papers database in a Dropbox folder, but this is not recommended. As with the features above, supporting multiple computers is also on Mekentosj's to-do list, and the furious rate of one-off upgrades – we're already at 2.0.6 – tells me that they do not rest on their laurels.
So, should you upgrade? If you had asked me when the app launched in March, I would have said not right away. Now, however, I think enough functionality has been restored and the added features are attractive enough that you need to take the plunge.