As the automotive industry rapidly moves toward a future powered by electric vehicles, Dalhousie Faculty of Engineering students are accelerating their own renewable and sustainable energy technologies.
The Faculty's Formula Society of Automotive Engineers (FSAE) student team is building the university's first electric-powered competition car thanks to a new sponsorship from Emera, which builds on its $10 investment million in Emera ideaHUB.
"Emera believes in supporting our future leaders by investing in opportunities for young people to learn and grow right here at home," said Rick Janega, the company's chief operating officer.
The SAE Formula is an interdisciplinary design and engineering challenge for university students around the world. Teams are tasked with building formula-style racing cars for competition. These competitions test a vehicle's performance in areas such as acceleration, endurance, autocross, and overall vehicle engineering design.
"As leaders of change in sustainability, we are delighted to support the Dal FSAE team as they build an electric vehicle for the first time in this competition. Developing a clean vehicle will have a positive impact on the student community and inspire learning throughout the Atlantic region.
Switching from a conventional internal combustion engine to a battery-powered transmission, the FSAE student team is designing a race car that will compete in the 2023 Formula Student Collegiate Competition. With support from Emera, the team now has the resources to upgrade equipment and purchase essential electrical components for their vehicle, including a motor and control electronics.
"Going electric is the way of the future and it's something we had to do," says student Mitch Gregory, captain of this year's FSAE team. "The team is extremely excited to welcome Emera as a sponsor, supporting our next-generation vehicle."
Emera invests in clean energy initiatives that impact the Atlantic region and support its vision to be net zero by 2050. The organization is also dedicated to building stronger, safer and more more inclusive through its community investment program.
Related Reading — A different kind of test drive: local non-profit teams with Dal to help encourage more people to go electric
From gas to electric
Since 2007, Dalhousie's FSAE team has designed and built 10 gasoline-powered vehicles and provided more than 300 engineering students with the opportunity to gain hands-on experience in areas such as automotive manufacturing, design and leadership. .
Over the past few years, many varsity teams have transitioned their vehicles to electric drivetrains. It's a decision that not only improved the performance of their race cars, but also helped reduce their carbon footprint. It also provided students with a learning experience in a field ready to take on the world.
"If you connect the dots between what we need from a sustainable society and what we're developing here, there are direct connections," says Mitch. "Building battery systems and building electric vehicles, whether large or small, is a skill set that applies to a future career in many different industries."
The power of partnerships
Over the years, the Faculty of Engineering at Dalhousie has rapidly advanced clean technology research and education resources and programs.
"Our curriculum and student experiences continue to evolve to meet the changing challenges facing society," says John Newhook, Dean of the Faculty of Engineering. "Students are looking for careers where they can have a positive impact on our community, and opportunities like the FSAE give them the chance to explore their creativity and learn innovative thinking outside of the classroom."
But he adds that great innovation is not possible without key partnerships like Emera.
"The Faculty of Engineering and Emera have many common priorities, including driving innovation, clean energy, and empowering teams and communities. Emera's climate commitment is admirable and essential to the future of our region, and its dedication and support to our students is key to empowering the next generation of engineers.
In 2021, Emera unveiled its climate commitment with a vision to achieve net zero CO2 emissions by 2050. The organization's net zero vision will require investments in emerging technologies and close collaboration with regulators, policymakers and partners.
"At Emera, we know we need innovative and diverse ways of thinking to achieve our vision of zero emissions, and we believe that the Faculty of Engineering will develop bold and strategic leaders who work towards realizing this vision for our province. says Janega. "Building on our strong relationship with Emera ideaHUB, the opportunity to support the Dalhousie FSAE team is a perfect fit."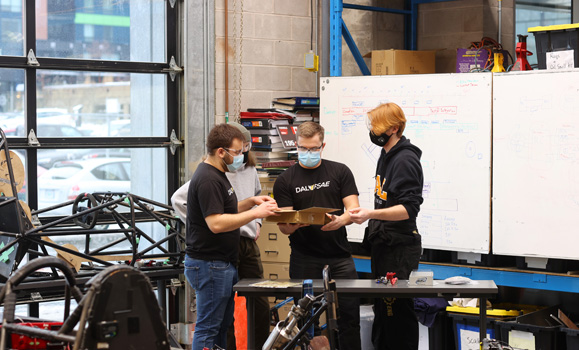 The road ahead
Mitch says that with this new support, his team has the ability to bring their innovative design concepts to life. This fall, the team begins building a new chassis for the electric vehicle and installing the car's electrical components. They expect the vehicle to be ready for testing in early 2023.
"Emera's sponsorship will immediately allow development to move from virtual CAD drawings to real-world prototypes," says Mitch. "Without their support, we wouldn't be able to move forward to build our dream."
Related Reading — Advanced Battery Scientists Join Tesla's Exclusive Dal Partnership in Research Chair Roles